Trispel GmbH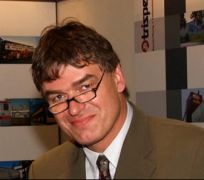 Trispel's lettering is all over
We leave our mark on the world. But honestly, when they see our work most people dont immediately recognize that we are behind it. Only rarely does it carry our name. Youve almost certainly seen our signs and lettering. For example, did you know that many of the signs in the trains of the Deutsche Bahn are our work, ranging from large-format design elements to small technical labels? Trispel has created diverse signage for numerous big-name customers: Deutsche Bahn AG, Bombardier and Deutsche Telekom, Continental, Siemens, and the Berlin Transit Authority BVG, as well as many other (also international) contracts.
The problem
Before purchasing a new telephone switch Trispel sought software to allow employees using twenty-five Mac workstations to dial from within a FileMaker-based customer information system.
Trispel was already dialing from FileMaker using telephones connected directly to computers before purchasing their new Octopus Open telephone switch. The new telephone switch had to be able to preserve this comfortable function.
The solution
Contact with ilink was the result of research done by the T-Com sales representative. After a demonstration of the direct software in ilinks Berlin office, Trispel decided to purchase this CTI solution for Mac OS X to work in conjunction with the new OpenCom telephone switch. After purchase, the software installation and configuration was performed by a Trispel employee. In contrast to the connection of computer and telephone via cable with the old telephone switch, the new configuration uses ilink direct to control the switch, eliminating extraneous connections. This makes this solution more cost-effective, less prone to failure as well higher performing.
The Advantages
After installing Direct and its server component TeamCall Server, Trispel was able to develop an extension to the customer information system enabling calling within one hour. From that point on, calling a contact only required one click. In a second step, functions to handle incoming calls will be integrated. Dirk Dettlaff, sales associate at Trispel, knows what he wants: if a customer has not suppressed his telephone number, the customers information should be retrieved automatically. Andreas Wenzel, head of sales at Trispel is very satisfied: The telephone software from ilink makes our daily work much easier!
Summary
With ilink direct, Trispel employees can dial telephone numbers stored in their FileMaker customer information system from twenty-five workstations using a T-Com Octopus Open telephone switch. Recognizing incoming calls is planned.
Hardware and Software used
direct/TeamCall Server from ilink
Telekom Octopus Open telephone switch
FileMaker 5 und 6 (Macintosh)
Trispel customer information system (FileMaker-Database)
Mac OS 9 and X
TeamCall Mac Client Mac OS 9 and X
Link:
http://www.trispel.de
[ back ]