direct is the CTI software for macOS for IP phones, phone systems, or tiptel phones.

direct makes telephoning with a Mac a pleasure: Not only is placing a call with direct quick and easy, but if a caller has not suppressed his number, direct can display the caller's identity before you answer the call. With direct's AppleScript support you can place calls directly from hundreds of Mac programs.
direct supports standard IP phones from Mitel, Snom und Yealink, as well as a large number of phone systems from major vendors, for example Aastra, Alcatel, Ascotel, Auerswald, Avaya, Cisco, DeTeWe, Deutsche Telekom, Ericsson, NEC, Panasonic, Shoretel, Siemens, Tenovis, and others. In addition, older ISDN phones from Tiptel are supported as well.
The search engine for your phone book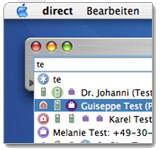 direct eliminates cumbersome dialing with the telephone. Just begin typing the name of the person you wish to contact. Based upon the first letters, direct automatically searches your personal address book and company LDAP directory for relevant contacts. Use the arrow keys to choose the desired contact from the list and type return.
Popup upon incoming calls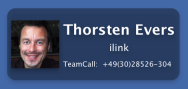 You finally know who's calling before you answer! direct displays the caller's name on your screen before your accept the call. Another innovation from direct is the ability to present a photo of the caller, if you have one associated with the contact. Of course you can configure if and how long it is displayed.

direct can use entries from both personal address books and network LDAP directories. Prerequisite for this function is of course that the caller has not suppressed his number.
Databases (macOS Contacts and LDAP)

direct does not care where your contact information is stored (locally, network, iCloud). As long as it can be accessed from your macOS Contacts application or from a network LDAP directory. Information is searched for and displayed transparently. You don't have to worry about where individual contact information is stored. So just telephone!
LDAP for networks: With LDAP, all users in a network can use a central directory for email addresses and telephone numbers.
The macOS Contacts application is a good supplement for managing private contacts that you wish to synchronize with your iPhone, other mobile, iPad or iPod.
Bonjour

You would like to connect a call to a colleague, but aren't sure if they are currently on the phone? direct's Bonjour window knows the answer. Here you can find a list of all the colleagues using direct, including their current telephone status. Eliminate the hit-or-miss involved in connecting a call.
Dock menu integration

The direct dock menu puts important numbers at your fingertips. Display contact's telephone numbers from an macOS Contacts group by right clicking the direct icon in the dock. These can then be dialed with a click.
The dock menu function is the perfect solution for your most frequently used numbers. So enter your top 10 delivery services, five best friends, your colleagues, or, or, or...